As winter approaches many of us are looking at building a cheap greenhouse to extend our growing season and be able to start off the growing process earlier in spring. There are many alternatives out there to do this from small garden bed covers to full-sized greenhouses that can not only house your gardens, but animals as well.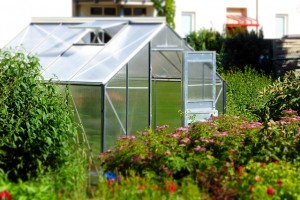 I have collected a number of video and link resources that will guide you in constructing your own greenhouse.  Many of these have 'claims' on how cheap their construction was – some I find realistic.  Some I find misleading.  My strong advice is that you can always reduce the costs of building by reusing materials – many you may be able to source from your local dump/recycle center.
Depending on your winter weather conditions, you will probably need to make adjustment to all or any of these ideas. For the winters we have in Maine, we will end up with a hybrid version of PVC construction with cattle panels due to the snow loading and high winds. Our profile will be steeper than what far southern states can use, due to the snow loading again – as snow will more easily fall off a steep sided greenhouse.
PVC Cheap Greenhouse in a day

https://www.youtube.com/embed/0YCP5wGCqqY
Cheap Greenhouse using cattle panels
High snow load/strong wind construction
Advice about types of plastic films
Great idea for securing plastic
Complete video series for a cheap greenhouse – PVC frame
This is a very good series of short videos that outline each and every step in the process. This whole process can be adjusted for your own situation…including adding supports for snow loading etc.
Shopping for materials
Siting and setting rebar supports
PVC frame construction
Building the base frame
Building doors and end walls
Installing the plastic sheeting
Other great resources:
Greenhouse plastic sheeting – Google
Greenhouse Mega Store – types of covering
---
I would love to hear from people with great ideas on how to make these greenhouses even better!