Our chickens are forever causing us issues with their water. We needed a DIY chicken waterer that was a better way to keep them supplied with fresh drinking water, especially in the hot months, or if we went away for a day. The solution was simple and super cheap.
Our diy chicken waterer fix required just two items – a 5 gal bucket with a good lid and a large metal trough. The bucket was easy. We asked at our local supermarket if they had some empty buckets that contained frosting that they were throwing away, and walked away with a stock of buckets with matching lids. The metal trough we already had for feeding chickens. They sell at the local farmers supply for around $12.
I have links at the bottom to these items if you love to shop for them online!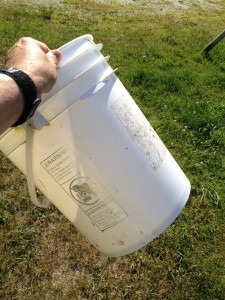 Step one – Take the bucket with its lid off and drill four holes up close to the rim. We made these holes about 0.5 inch (10 mm) in size.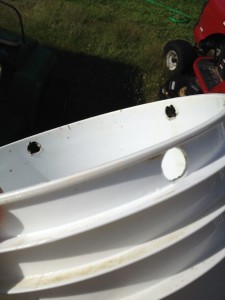 Step two – fill bucket with water then push on the lid.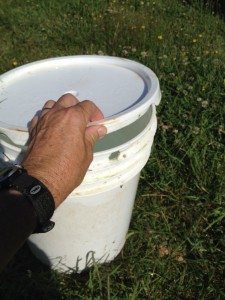 Step three – set the trough on the ground in a level position.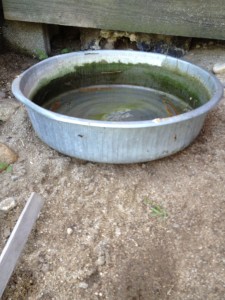 Step four – place the bucked UPSIDE DOWN into the trough. The water will escape out the four holes into the trough providing water for the chickens.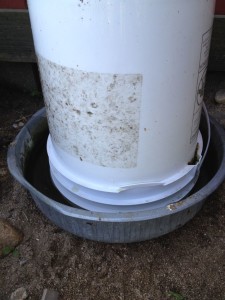 How does this diy chicken waterer work?
The water will fill to a point in the trough that it creates a partial vacuum inside the bucket that equals the pressure caused by the weight of the water in the trough and water stops flowing out. When the chickens drink the water, more water pours through the holes into the trough until the pressure is balanced again.
Any issues?
You need to replace the water each week at least as it tends to get algae growing in it.
Chickens love the perch on the top, then poop into the trough. A piece of wire on the top stops that fast.
In winter, you can put a water heater underneath the metal trough to stop freezing. We have one built from another bucket cut to about a quarter of the depth and a lamp fitting side with a 60 watt globe that we placed under the trough and worked great.
I hope this helps you to recreate your own diy chicken waterer – so easy, so cheap and works great!
Get the stuff online