Did you know you can use Google Earth to see your farm history?
Google Earth is a wonderful tool to use for many things about your homestead, such as planning your farm permaculture zones. Its simple to use, yet powerful interface, can be mastered in a few steps and provide you with a map you can print or share online.
Google Earth is a free mapping tool that you can download for your computer or mobile device from here.
---
Google Earth Farm History – how to do it!
Step 1. Finding your farm
Open Google Earth. In the search box in the upper left hand corner, type in the address of your farm….then click search and watch it zoom in! Google Earth will place a red pin and display the address of your search on the image. You can zoom in and out and change the orientation using the zoom bar tools on the right hand side of the image. To remove the red pin (which I find annoying) and address you just click the blue X under the search results box on the left hand side. For now, zoom to a level so you can see the entire outline of your farm in the image.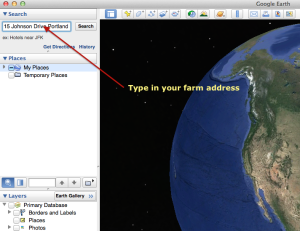 Step 2. Viewing past images.
Google Earth has a tool bar that sits at the very top of the image. You can hover over each of the tools and it will tell you what they are. Find the Show Historical Imagery tool and click on it.

The tool provides you with a slider bar that shows you all the historical images they have for your farm area. The oldest is on the far left and the current image is on the far right. Just slide or click anywhere along the slider bar to change the image.

Here is what our farm looks like in the most recent image: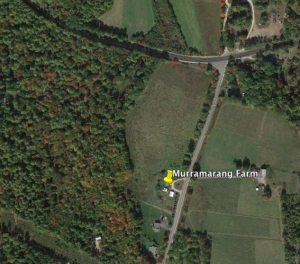 And here is our Google Earth farm history from in 2003: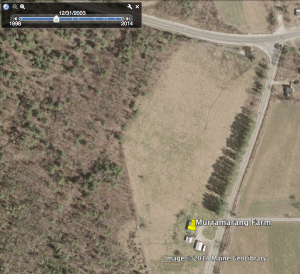 On our farm we can see when the forest was logged (sometime in the late 1990s) and when fruit trees were planted (in the 2005). We can see the old stone walls far better (now overgrown in places) and old wells etc. Being able to see these images has helped us immensely in working out what old structures and land use was on our place.
As you compare images of your farm you need to take into consideration the season the photo was taken and even the time of day. Many of the older images are air photos taken from airplanes. The modern images are satellite images.
I hope this has been a useful tutorial (Google Earth farm history) to see the history of your farm recorded in the historical images.