I love growing potatoes! I can't say I am an expert, so I turn to the online videos to see what people are doing that I might want to copy.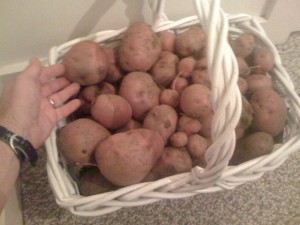 So here are some video of the major potato growing methods people seem to be using …other than just plopping them into the soil!
Growing Potatoes in 5 Gallon Buckets
Gaz says: Nice video of a simple method and great for those growing in limited spaces, like on balconies etc. One point I would change is I would start (at least in the first year) with seed potatoes rather than potatoes you buy in a supermarket. I love the dog in this video as well…and wow – what an awesome compost system this guy has!
Growing Potatoes in burlap sacks
Gaz says: Nice kid friendly video – kids helping their Mom (I love to see that). Some great advice on chitting and ways to save soil.
Growing Potatoes in straw/hay (no dig method)
Gaz says: Love to try this method – as I always have some course hay around. Shame it did not have some harvest footage.
Growing Potatoes in tires
Gaz says: I tried this method – it was a failure….and there are a ton of videos online that show this method NOT working. It seems that the plant puts all its effort into growing a stem up the tires rather tan creating potatoes. You end up with a few potatoes in the bottom and almost nothing higher up. Shame…it held so much promise!
Growing Potatoes in a tower

Gaz says: Nice video on setting up a potato tower. Again…I love to see kids involved in the process of growing food.   I like this system, as it uses the same space to grow layers of different potatoes.
Growing Potatoes organically
Gaz says: A little stilted commentary – but some interesting facts and useful advice.
If you want all the info on growing potatoes, you can't beat this wonderful blog from our friends at igardenplanting.com.