I came across a measurements chart in a meme online and thought how useful that would be for canning and general homestead cooking. But it lacked some important features like metric conversions and links to fluid ounces. And so I updated the measurements chart for our own home use – making it clearer to use and adding the missing information. All the cooks in my family LOVE IT!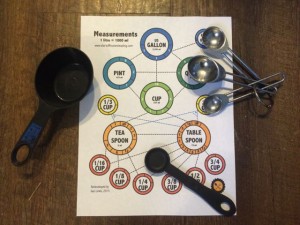 How to use the Measurements Chart
The measurement chart is simple to use. Each of the major volume units, such as gallons, is linked to smaller measurement units, such as pints and quarts, with dotted lines. Where the lines leave each unit there is the number in the colored ring. This number tells you how many of these units converts to the connected unit.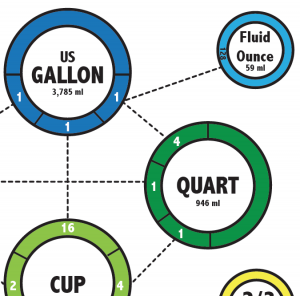 So, in this example, 1 gallon converts to 4 quarts. 1 gallon also converts to 16 cups. 1 quart converts to 4 cups. And 128 fluid ounces converts to 1 gallon.
The chart also contains two blue dotted lines where you have to add two measurements together to do the conversion.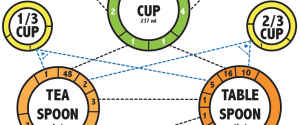 So in this case 1 one-third of a cup converts to 1 tea spoon PLUS 5 table spoons. And 1 two-thirds of a cup converts to 10 table spoons PLUS 2 tea spoons.
To use metric, you can use the measurements shown which are in millilitres (no – that is not a typo…that is the correct way to spell the unit). Metric volumes are so easy. 1 Litre has 1000 millilitres in it…so using millilitres is a simple way to convert. However some recipes have a mixture of volumes, like litres and tea spoons, so the measurements chart helps to sort out those conversions.
For more metric conversions, see this list.
---
So how do you get your hands on one of these measurements charts?
It is simple. Folks who get our newsletter are sent the chart to download for free in each newsletter – so why not sign up for the newsletter….we only send one email a month or less and the next newsletter will have the link. Just fill in the form on the right hand side of this page.
Or, if you want a copy of the measurements chart RIGHT NOW, you can buy a copy for 99c from the Books & Tools page.
Happy canning and cooking!