A pick your own fruit business is a great way to bring direct income to your farm or homestead. Within 30 minute drive of our place we have seen strawberry fields, blueberry fields and apples orchards all using this as a way to sell their produce. If you are looking at a way to develop a new income stream for your homestead, this is certainly one to consider.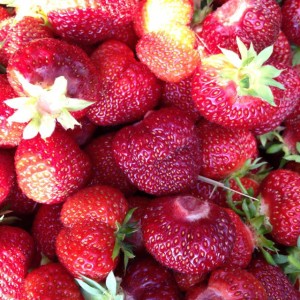 Pick your own fruit business – guide for beginners.
What do you need to know?
Know your local laws, rules and regulations
Boring I know – but you have to operate within the local rules, regulations and laws. Do you need to register your farm name? What about the rules about signs? Do you need a permit for parking (even on your own place?). Ask a lot of questions at your local town office or police station – it never hurts to ask! But my big tip is to ASK EARLY! Find this out before you embark on the adventure in case there is a 'show stopper' in some law, rule or regulation.
Parking
You need to have adequate off-road parking for your customers. I have been to some one-day events (like Maple Syrup Sunday held in Maine) where people have been forced to park on small farm roads causing a bad traffic issue – and we won't go back to those places! So set aside a place in a field that you don't mind getting some car traffic – and use that as your base for your operations!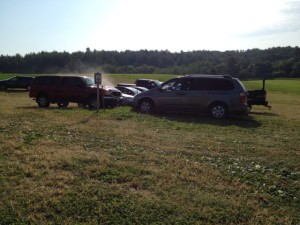 Getting people out to your field or orchard
Many farms have their fields or orchard right next to the road or parking area- but for others people have to walk or even take a tractor ride to the active picking area. What I have noticed is that many of the customers are older folks or people with young children. Having them walk long distances will cause them problems – and a free tractor ride is an added bonus for little kids (and adults alike).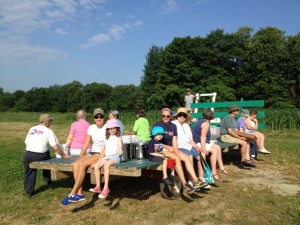 Catering for people
Having a bathroom close to the picking area is essential. The great porta-potty industry is the lifesaver for this sort of issue. Just one potty conveniently placed at the edge of your field – within plain site of your customers – is perfect. Yes there is a cost, but you just build that into the cost of sale of your produce.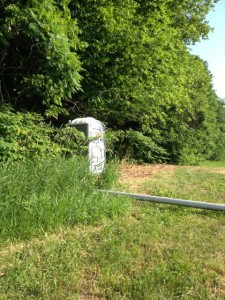 Crowd control
Keeping people in the area that you want them to pick and not have them wander into areas not yet ripe or where you have other farm activities can be an issue. In some ventures I have seen the use of 'police' tape used to guide people into the right areas. In others they have color coded flags (you can buy these at the local farm store for around $20 or less for 100) marking which rows are available for picking and which are not. I have also seen the flags used mark apple tree varieties for customers. In one strawberry place the farm had a worker stationed to tell people what row to pick from and they had flags to mark how far down a row the 'unpicked' area started. Some places have well posted RULES for customers.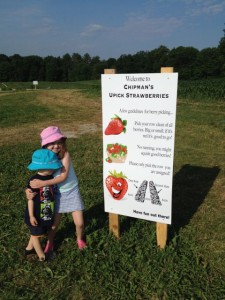 What ever the method, you will need to control your customers – and make it easy for them to find where to pay!
Payment
This will depend on your produce – but payment by weight makes the most sense. You will need to have good and inspected set of scales. One that lets you tare out a container – put a container on empty and record its weight and when the customer comes back with a full container you can subtract its empty weight. Be able to accept cash and credit cards – credit cards incur you a fee so you need to build that into you pricing.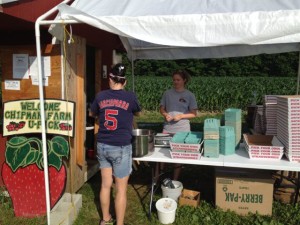 Add-ons?
Some of the larger operations we have been to have a store selling some other related products. One apple orchard sells cider, apple sauce – but the big winner is the home made donuts and fresh coffee! A few picnic tables under shelter also helps! Why not sell as many of your farm items to these folks – its a captured audience!
Marketing
Nothing beats signs on the road and loads of 'word of mouth'.  But to start off, you will need to get some local items in newspapers etc.   If you provide a local newspaper with a story about your farm and some pictures, they will often happily print it (along with your pick-your-own message) free of charge   Signs at the farmers market works as do signs posted at local businesses.   Ask first – and hope that people will help you out!