Solving the income gap is one of the biggest stumbling blocks to starting off homesteading. This is the gap between earning an income in a standard job and the perceived lack of income in living a homesteading life. People just wonder how they are going to survive with no regular income….and stall on their homestead journey. Below I share some tips for how you can do that.
I think that the biggest issue is that people believe that they have to go across the income gap from one income world to a new (and much lower) one in one big leap. I don't think that is the case and in my experience there is a few stepping stones between a 9-5 job in the city and living completely off the land…and many people (including me) are very happy to take one or hops on those stepping stones and stay put.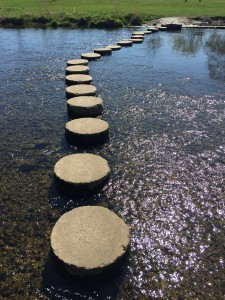 So what are the income gap stepping stones.
Here are some ways that you can start to move from your 9-5 work-in-the-office job to living and working from your homestead. Many of these income gap stepping stones I have tried myself – as you will see….
Telecommuting in your current job
Many positions lend themselves to telecommuting. That is working the same job, but working it from your home office.
Its perfect for people who push papers, write, program etc. Many employers already have schemes for people to telecommute – and others have never considered it. What it takes is ASKING is you can try telecommuting. There is benefits for an employer – they don't have to provide you an office, or a computer, or heat/cool a space. And of course there is a HUGE benefit to you as a homesteader – you can spend your commute hours productively on your gardens, equipment, animals etc. The most important thing to know is that you will have to work harder as a telecommuter on that job to keep proving to your boss that it was a good decision to let you do it!
You can find out more about telecommuting on sites like my very own Telecommuting Basics. (I believe in this sort of approach so much I have a small website dedicated to helping people start telecommuting!)
I have been telecommuting for the majority of the last 12 years. During that time I have managed people and programs from across the country and around the globe. It has been wonderful for my homesteading life and great for the companies I have worked for. Its really worth seeing if you can arrange it in your CURRENT position.
Find a new telecommuting job
Finding a new job that will allow you to work from home is becoming easier as companies move to using telecommuters to fill their needs. Many of the major online job listing sites even have a category for 'telecommute' allowing you to see what is available.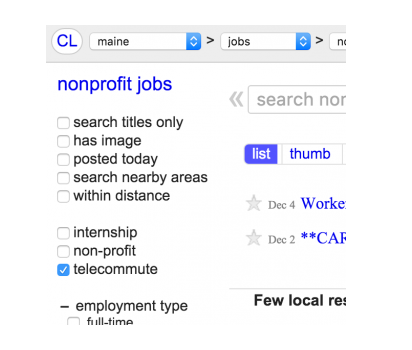 Even CraigsList has a telecommute category that you can search against for positions.
Change jobs – to one more local
If your career is in a field that just can't work as a telecommute position, then start looking for work in an area in which you want to start homesteading. I know that sounds 'easy', but it never hurts to throw your resume into a job search in an area in which you would like to live. If you win an interview it might mean you have to start making some fast decisions, but at least you will be taking some steps in the right direction.
I did this just a month ago. I made the decision that my current position was taking me away from my homestead and family just too much. So I resigned. Scary…but I decided that I would be better off living my dream in a different job than never being home! It took me about a month to find a local position that used my skills. As it turned out, they even let me telecommute three days a week – its the best of both worlds.
'Work from home' online
Similar to telecommuting, the often pushing 'work-form-home opportunities' are more of a mine field. There are some very legitimate companies out there looking for people to 'work from home' but there are some scams that take a lot of peoples money every month. So here is the good rule of thumb – if a 'work from home' scheme is asking YOU to spend money before you can earn anything, then back away. Also, beware that many of these companies want you to put the 'hard sell' of their products/services to your friends and family.
I have to admit that when a friend or family member starts to do that to me 'Hey Gaz, I have a new business opportunity that I want to talk to you about…' I back away very quickly. These are almost always a pyramid scheme – that is the people at the top make a lot by getting a load of people below them to do all the work and make all the money. They are, in my opinion, scams.
Sell products or services online
Another online way to start making income before you homestead is selling products and services online. There are a lot of people making a decent income using their craft skills and selling those items on eBay or Etsy.
When I was starting my homestead I did this as well. The trick is not to follow what everyone else is selling, but to create a new market for an item in an area that you know a lot about. Back them for me it was model trains. I had been building a model train outlet for years and knew that I would need a ton of tiny trees to make it look realistic. So I hunted around and learned how to make little trees…then put some up on eBay. They sold very well. Before I knew it I was spending every night making little trees to sell…and almost none ended up on my own train layout! I then moved out into other items for model trains – but I made all of them!
Some people do a great business buying items in bulk from overseas (like China) and then selling them on eBay and Amazon etc. The trick is to test the market and understand it before investing a lot of money.
I have a good friend who creates and sells knitting patterns online. She is making more now each month than she did as a teacher! So it is possible.
Another way to do this is to sell services online – like graphic design, or programing or writing. Fiverr is a site where you can sell your skills. Lots of people are using this as a way to fill the income gap.
Write online – blog, teach or share
Writing online to make an income is a great way to fill an income gap. However beware that this is not a 'make money quick' scheme – and it takes dedication and even devotion to a subject to make a solid income. You can do this by blogging in certain markets (let me tell you that I don't make an income from this blog…but it does help cover some of my costs of having the internet at home). It seems the BIG money is made in the business/finance/health markets.
If you want to get a glimpse of what I do, see my page on behind the scenes of my blog.
Some people make money every month writing articles for groups like InfoBarrel. These allow you to write items for their site and they pay you a commission each month based on the number of people who visit those pages. This is a clean way to get started – as you are not having to set up and run your own website.
Another group of people seems to do well making money by teaching online. They use sites like Udemy which do all the behind-the-scenes work and provide all the tools you need to teach about a topic you are familiar with.
With ALL these you need to find an area that you know a lot about and that is not already flooded with people with courses, blogs or articles. Maybe you are into some sport, or type of fishing, or fixing some piece of machinery. If you have a specialist area you can use that to fill the income gap in this way.
Teach a course – Adult education
Most school districts run an Adult Education program and are always looking for people to teach courses. Our local Adult Ed. groups runs courses are varied as computer skills through to basic woodwork. But I would LOVE if someone ran a welding course, or a 'how to fix small engines' course etc.
Teachers of courses get paid around $20/hr to run a basic course. More complex courses can pay more. Check out what your local Adult Ed. folks can offer.
I am currently teaching courses at my local Adult Education program on how to write online and another course on working with the media – two things I have done in my career that I am now using to generate income.
---
So these stepping stones may be ways that you can close the income gap and start top move from your 'office-bound-job' to the homestead lifestyle.
Maybe you know of other ways – and I would love to read about those ideas in the comments below.