Using a planning book to record your homestead activities can be an important tool for you to make progress.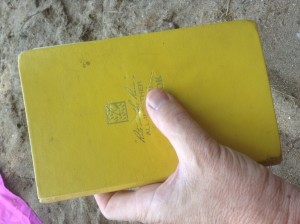 What is a homestead planning book?
A planning book is a book into which you plan, record, budget and design all things about your homestead or farm. It's part journal, part diary, part almanac that you keep about your endeavors.
My planning book, known affectionately as the "Farm Bible", contains plans for my first pole barn, layout of my gardens beds, shopping list of lumber for a loafing shed, the pH of our well water over time and so on.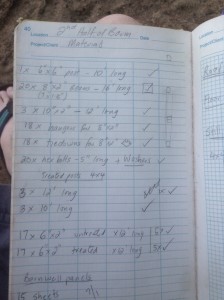 What is so powerful is that all this information is in ONE place…and not on separate sheets of paper hidden around the place. Information is at my finger tips and easy to find. Perfect really
Types of information you can record in your planning book.
This depends on what sort of person you are…a grand recorder of each and every event through to a person who just needs the bare essentials of information to be kept.
Here is a partial list of what you can record:
Planting dates for vegetables
Vegetable varieties you plant
Crop weights and harvest information
Crop rotation information
Soil testing results
Rainfall measurements
Snow depth measurements….just for fun.
First and last frost average dates.
Well water flows
pH of well water
Water use (if paying)
Hatching dates of eggs
Purchase dates of animals
Worming dates etc for animals
Lifestock costs and sale prices
Rough plans for building, alterations, animal pens etc
Quantity surveying for projects (how much of each item will you need)
Quotes from contractors
Important contacts – like neighbors, veterinarian, farrier
What type of book do I need
You need a book that will contain enough pages for you to record all the information you want to keep. I think anything less than 200 pages is sort of too small. However, you want it to be a size and shape you can easily carry around with you. A full US letter-sized ring binder is a little too big to put in a pocket, and a small spiral-bound note book can be too small.
You don't need anything fancy – a simple 50 cent school composition book can be perfect!
What do I use?
I will put in a plug for the what I have used the most over the years. It is a special book made of special paper that can get wet and still is ok. It is produced by a company in Washington State and the brand is called Rite-in-the-Rain. You use a pencil or a special pen…and you can even write in them UNDER WATER. (and in Maine that means if it drops from my pocket into a puddle, I don't lose all my important information.
The one I like to use has columns on one side and graph paper on the other. I find this is great for making lists, collecting data and drawing plans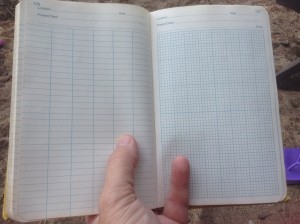 Mine is 4.5 inches by 7.5 inches – which is perfect for fitting in my back pocket when I hit the farm store
People have asked…so here is the link to the Rite-in-the-Rain field book that I use 
Is there an App for that?
There are starting to be some super computer programs and associated smart phone apps you can use for this purpose if you MUST have it digital. Evernote and Trello are two I have used as they have free versions and have many features. While great…and I still use them both…they still can't beat my Farm Bible in my back pocket. That said, there is some information, like capturing photos, that the Farm Bible just can't do. However, they are great for keeping track of information that I use online – like ideas for this website!
---
I know that not everyone will use a planning book – but I hope that those who do will see the benefits from collecting and having all their homestead information in one place. The benefits I find for using a homestead planning book are:
I don't lose information
I save money by be able to check against what I spent last time
I don't repeat mistake I make in plant varieties that I have tried which failed.
I have a better crop rotation in my small vegetable gardens.