We have been using permaculture zones to plan our farm. Even if you are not a permaculture fanatic, the concept of planning your homestead or farm using a series of zones is a very solid idea. In the permaculture world, each zone has a 'use' based on how often you visit that part of your farm and what activities you will undertake in that zone.
You will find many places with descriptions of permaculture zones (see below for some links) and how they were developed. I have adapted these to fit my homestead planning ideas. They have not departed from the pure permaculture concepts very far, but below I have given examples of what I am doing.
Using permaculture zones – 0-5
Zone 0
This is your home – the building and any other structures that house equipment etc but in which you don't do any farming activities. So house, garage, workshop etc. Our barn is NOT in Zone 0, because we have a farming activity inside it!)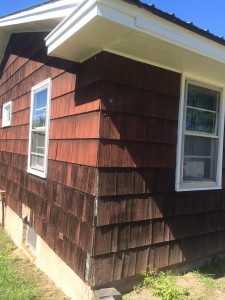 Zone 0 – our house
Zone 1
This is the zone closest to your house and where you visit often. Its a great place to have your vegetable/herb gardens that require you to water, weed, harvest on an almost daily basis. I have my raised-bed vegetable gardens, chicken shed and horse stalls in this zone – and in this zone is the barn!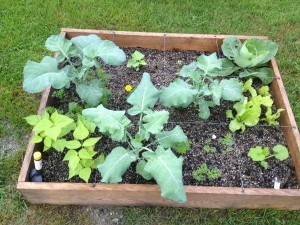 Zone 1 – includes raised beds
Zone 2
This is the next zone away from your house. This is the place that you would visit maybe once a week to do some maintenance or farm activity. Its a perfect place for growing fruit bushes and other less intensive vegetable beds – like pumpkins etc. Its a great place to have your large compost containers. I have some berry canes growing in this zone, a no-dig pumpkin area and our compost bins and manure compost area.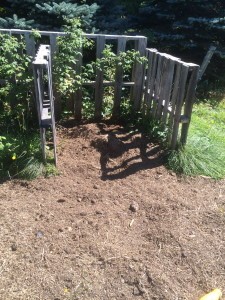 Zone 2 – includes our compost area
Zone 3
This is the place where you might grow crops. It's a place where you have to work intensively a few times a growing season – to plant, water and harvest. For example, this would be a corn field, or a field for hay. Its also the zone in which you graze your larger farm animals. For us, this is our horse fields in which our chickens can free range as well. Our old apple and pear orchard is in this zone. As time goes on this zone will decrease and Zone 2 will encroach.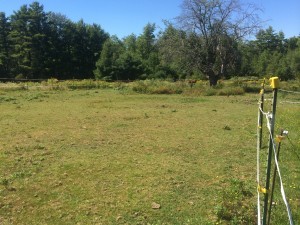 Zone 3- our main horse fields
Zone 4
This is a zone in which you just venture to gather wild food (like forest mushrooms) or gather firewood. So typically its a forest environment where you don't graze animals. We have a wedge of this zone on our place – but hope over time it will turn into a Zone 5 area.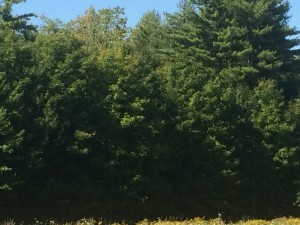 Zone 4 – some of our forest
Zone 5
A wild area – an area that you rarely go into. A place for wild animals to roam. A place to protect so that the natural ecosystems can thrive. It can also be the place from which your water supply is being recharged. For us this is a special place we aspire to have….we plan for it and it will occur!
Using permaculture zones – whats the advantage?
Imagine starting your homestead or farm like it was a blank piece of paper and you were able to plan out the location of all your homesteading adventures. Where would you put the house, the barn, the chicken run the gardens, the fruit trees the horses etc? How would you make those decisions? Using permaculture zones helps you in the decision making process.
If, like most of us, you are not starting with a blank piece of paper, you can plan around the infrastructure you already have and build a really solid workable plan using permaculture zone concepts to underpin your decisions. For example, we built the chicken house ("chook shed") next to the barn in our Zone 1 as it was a place we already visited every day multiple times. Had we put it in zone 4, we would have had a long walk every morning and night and the chickens would not be located in the area we wanted them to forage. The solution became simple to see and a decision easy to make. Those kind of decisions I like!
Want to read more on permaculture zones? Try these links:
---
So even if using permaculture zones sound too crazy for you – the concept of zoning your farm to help you plan has to be a good idea. Using the zones to think more about what you will develop and how you work more effectively on your homestead has to be a positive thing!
---
If you like this sort of information, you might also like:
How to use Google Earth to zone your farm.
How to use the online (free) Web Soil Survey to map your farm.
Rocks, soil and geology on your farm.
Using Google Earth to map your farm soil.
Here are some books you might also like to read to find out more……