aking a vacation from your homestead is always a worthwhile thing to consider. Its always good for your moral to take a break. Sometimes being away from the day-to-day chores and issues can make homestead planning a little clearer. It's also good way to get back in touch with your family. There are lots of good reasons to have a vacation – even from the place you love!
If you are just starting to plan for your move to a homestead life, then you should include in your plans how you can take vacations every now and then. Planning early will make the process so much easier.
All that said, there are plenty of issues associated with leaving a homestead for any period of time. Who will feed the animals? Who will clean out stalls and cages? Who will switch on or off well pumps, lights etc.
We have struggled with these problems each and every time we have had a vacation from our homestead. We have found a few solutions to make the process easier and offer them to you as options:
Vacation from your homestead – a few options!
Professional pet/farm sitters
These folks come and live in your cottage and take care of all the tasks you require. These are not so hard to find in almost any area by just doing a search on the web. The better ones have a a good list of clientele and have a form of pet sitter insurance and bond. They come to your house and discuss your needs and meet all your animals and quote you a price to do all the tasks you need.
The positive side is this is a one stop shop to having someone run your farm. The down side is that they can be very expensive. In my area it can cost $75 or more a day for them to visit. They do have expensive overhead costs…insurance is not cheap…so you need to weigh up if it the best value for your money. We have also found that some pet sitters have cheaper rates for long term care.
Some countries – like Australia – have very good online farm sitter websites. Check this one out. Here is another in development (mindmyfarm)
Board your animals out
Another solution to look after your place while you take a vacation from your homestead is to find local farms that will take care of your animals while you are away. In this way you can have experts looking after your animals offsite, leaving it easier to walk away from the homestead for a period of time. This may or may not come with a cost depending on the relationship you have with the farmers. You should always offer the cost of feed if nothing else, but I would expect a and want to pay a fee as well.
Using friends and family
If you are fortunate enough to have friends or family that are willing to look after your homestead then you are extremely lucky indeed! However, you will still need to provide detailed instructions (we like written notes) on the needs of the animals and any other issues that you need to have looked after. For us it is our new but unreliable propane furnace…you have to tweak it every few days to keep it from stopping..and that takes a keen eye and somewhat the skills of Scotty on the Enterprise! So notes really help.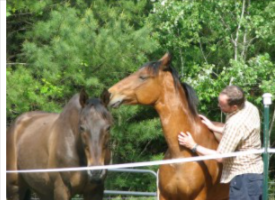 We always insist on paying our friends/family to look after our place – even when they refuse to take the money. We think that having them help is so valuable and we budget to pay them as part of our holiday plan. This decision is a personal one and will always depend on your circumstances.
Stay in touch when you take a vacation from your homestead
What ever option you use (and you might have found some other process that works for you…and we would love you to share that in a comment below), you should make sure you keep in touch when you travel with the folks – an email, text message, email, facebook message etc etc. Let them know you are always available to talk about any issues, even if you are on the other side of the planet! Leave them with contacts for alternatives if you can't be contacted – another friend for example. Communication is always the key for a happy trip on both sides.
---
It is important to have a vacation from your homestead – even if it is only once every few years. I hope these notes have helped you to consider some options to allow it to happen.